bijan sabet: ExtensionFM →
I've been using ExtensionFM almost every day since it first came out in private beta several months ago. It's a simple, lightweight, amazing web service that organizes all the mp3 you come across on various websites and blogs and puts them into an ExtensionFM Queue (think music timeline) and…
bijan sabet: A guest post about joining a startup →
I've never had a guest post on my blog before. But I'm thrilled to start with this one. It's a great story about determination & passion and it's by Nick Crocker who starts at Boxee today. * * * In a recent post about how to join a startup Bijan Sabet said: "There are a number of…
Todd Dagres Tumblog: Help Wanted →
A blight looms on the horizon. An engineering talent blight to be exact. The bumper crop of consumer internet seeds and start-ups cropping up around the country (with concentrations in SF/SV and NYC) and binge hiring of engineering talent by companies such as Google and Facebook are creating a…
bijan sabet: Startups & the product roadmap →
In early stage startups, it's not particularly helpful to obsess about long term financial projections - especially the revenue projections because we know it's not always up and to the right. The same is often true for long term product roadmaps. Often times in board meetings we talk about a…
Let's not confuse non-compete agreements with...
bijan: As many folks know, I am strongly against employee non-compete agreements. Unfortunately, such agreements are the status quo in the State of MA and are widely used & enforced. I believe they stifle innovation and are simply unfair (for more info check out the Open Competition blog). People that are in favor of maintaining employee non-competes often intentionally or sincerely confuse...
Planning a Great Business
A big chunk of a VC's day is spent evaluating new businesses for the first time.  These interactions take a variety of formats.  Sometimes, it's an executive summary or powerpoint presentation that has been passed over by a trusted source.  Other times, it's a formal, 60-minute presentation.  Often, it's just a casual cup of coffee that may turn into an impromptu (or not so impromptu) demo. The...
Revised Non-Compete legislation doesn't go far...
bijan: My partners and I have been pushing to end the use of employee non-compete agreements for some time now. We passionately believe in this issue and back in late 2007 I wrote that we should end these non-compete agreements. We planned on starting with our firm and then encourage our portfolio companies, entrepreneurs and other VCs to end this practice as well. A few months later I wrote a...
Don't paint with a broad brush in this downturn
bijan: We are still in an marco economic mess. I'm not going to pretend to predict when we will get out of it. But there is something very familiar about this down turn as the last downturn. There are some folks (VCs, press, bloggers, entrepreneurs, bystanders, critics) that have decided to paint with a broad brush. That happened in the Web 1.0 crash. In those days, some people said...
What's most important: features, schedule or...
bijan: I learned a lot of valuable lessons working with Steve Perlman at WebTV Networks and Moxi Digital. If you worked or met with Steve you would easily agree with me that his passion is nothing but extraordinary. He is positively obsessed about building amazing products. I learned other things from Steve as well. One of my favorites is V.S.C.F. VSCF is how he would keep priorities in...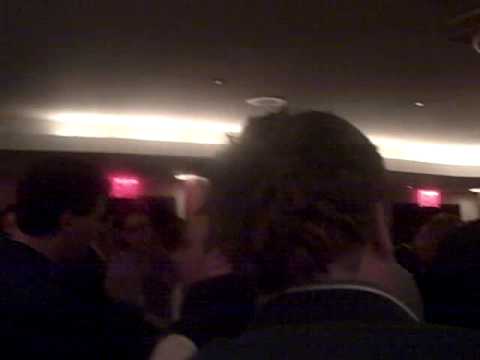 Beware of the complicated deal
bijan: At this point I've done my share of deals of all sizes and shapes - equity, partnerships, licensing, JVs, etc. There is one rule I like to follow that I've learned the hard way. Beware of the complicated deal. There are times that complicated deals can be rather seductive. For example, a big honking deal with a large company can be extremely helpful. But there is almost always a...
Get REAL- time
todddagres: I had an interesting conversation last week about the media and entertainment landscape with a guy that advises people running the major media and new media companies.  We discussed the state of the market and where things are headed.  We talked about what's happening with the traditional media companies i.e. the studios, the TV networks, the radio stations groups and such.  The...
Why We Think Education is Ripe for Innovation
Education is one of the broad themes we are hoping to pursue with Start@Spark.  It's an area that we think has huge potential to be transformed by technology, and where the lessons learned in the media, entertainment, and consumer internet spaces can and should be applied aggressively.  Moreover, improving the access and quality of education (both domestically and across the world) is a priority...
Content owners will get paid if they open up all...
bijan: There are a few ways online content is paid for today. Advertising. Subscription. Pay per download or use. There are others forms of monetization making inroads but these are the big three at this time. Many content owners are still struggling with their digital efforts & strategy. And as a result we (all of us) are still at the early days of figuring all of this out. Consider: 1...
Our Areas of Focus At Spark
It has been six weeks since our launch and we have been very pleased with the response we have received and the excitement of entrepreneurs about Start@Spark. One question that we are often asked is "what kinds of deals are you looking for".  Usually, the person is asking what sectors we are interested in or what kinds of problems we think need to be solved. At Spark, we think about this question...
MBAs vs. Entrepreneurs: Who Has the Right Stuff... →
In a startup, sometimes it best to start at the...
bijan: Most of our investments are early stage. For these startups,  our investment will not bring the company to cash flow break even. And many times our initial investment will not even bring the company to initial revenue either. That is just fine with us. There are many other things we want our companies to accomplish with our initial capital. Such as product, learn & engage with their...
Support Massachusetts House Bill 1794
bijan: If you live here in Massachusetts then I encourage you to write and call your local state representative and tell them you support Massachusetts House Bill 1794. This is the bill that would end employee non compete agreements (it would not impact non-disclosure agreements or non solicitation agreements. those are quite different and should be protected). Our firm, Spark Capital,...
The War between Free and Pay
todddagres: There are clear signs that the content distributors (MSOs, Telcos, Wireless) are making careful little plans to limit the distribution of rich content (video being the main item) over the web.  Witness AT&T's desire to limit the flow of video over their mobile networks.  Time Warner Cable is planning to go to tiered pricing for bandwidth in an attempt to charge more for video and...
Watch
Great turnout at the Start@Spark entrepreneur event last night in Kendall Square.  Great to meet new folks, catch up with old friends and colleagues, and see the energy in the local entrepreneur community. Congratulations to Sam Clemens and Tom Beecher for winning our raffle.  They each get 1-year subscriptions to Clear, truly a must-have for any frequent traveller (as most entrepreneurs are).
Risks of taking seed investment from a Venture...
We have had a number of people ask for clarification on the proposed terms of the seed program. The seed investment we'd make is up to $250,000. We would consider investing more, participating along side angel investors or share the seed with another venture firm on a case by case basis. Our standard investment is a non-recourse convertible loan. The key benefit of structuring the investment...
No Application Deadline for Start@Spark
We are very excited about the enthusiastic response we have received just a few hours after announcing Start@Spark. One question that has been coming up is whether there is a specific application deadline for the program.  The answer is no.  Start@Spark is an ongoing program and we will be reviewing applications and meeting with entrepreneurs on a weekly basis. You can read more about the...
2 tags
Why are we doing this?
Today we are launching Start@Spark, a new initiative focused on seed stage investments in the New York and Boston areas. When we launched Spark Capital in 2005, we were convinced that a revolution was taking place at the conflux of media, entertainment, and technology. Four years later, the pace of that revolution has exceeded even our own expectations, as the movement of people and content...